The representatives of the projects selected in the Call for Opportunity launched by CONAE met to share the work carried out, receive training, and project the 2021 agenda.
Between December 9 and 11, 2020, the National Commission for Space Activities (CONAE) within the scope of the Ministry of Science, Technology and Innovation (MINCyT) held together with the National Geographic Institute (IGN), a new working meeting with the referents of the projects selected by the Announcement of Opportunity (AO) for the development of Digital Elevation Models and their use in Synthetic Aperture Radar (SAR) applications .
The Announcements of Opportunity launched by CONAE consist of calls to present projects aimed at research and development of applications and fine-tuning of methodologies for the use of spatial information produced within the framework of the National Spatial Plan , with emphasis on the benefit of the Argentine socio-economic system.
During the first two days of this meeting, the progress of the projects, the main needs related to the use of satellite images, topographic data and technical training were presented . The last day of work was given a training on the use of SAOCOM images for interferometry, through the free use program for satellite data processing SNAP v8, developed by the European Space Agency (ESA). Training was also carried out on the use of the SAOCOM Catalog and, in particular, on ordering interferometric pairs and associated products .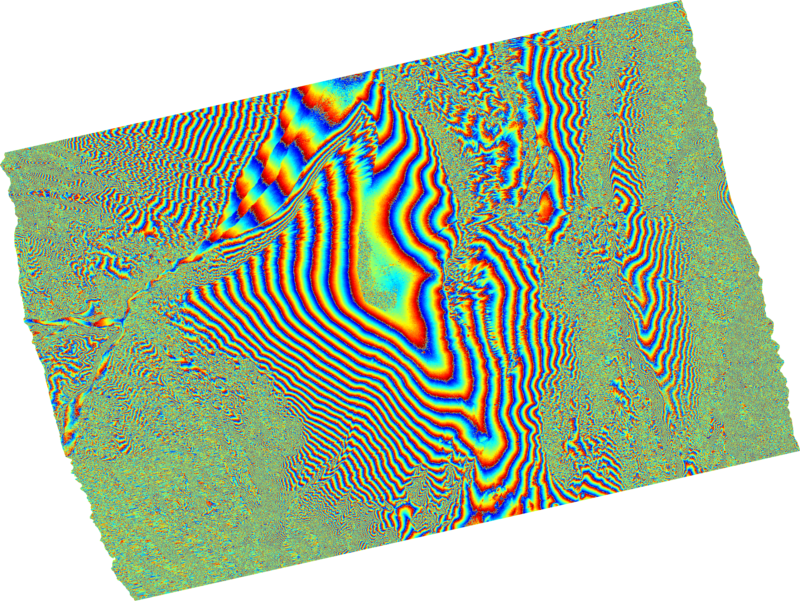 Example of an interferogram to obtain a digital terrain elevation model made with SAOCOM images, shows a region south of the province of San Juan.
This image shows the interferogram (technique to generate land surface displacement maps and terrain elevation maps) of a region located in the South of the Province of San Juan, in the surroundings of El Leoncito National Park and Barreal Blanco . It was generated from SAOCOM 1A images captured on December 7 and 23, 2019, in StripMap S4 Dual Pol VV-VH mode, with ascending orbital direction .
The color bands that are observed in blue, red, yellow, green and light blue sequence correspond to the height difference on the ground; data from which a digital elevation model can be generated, which provides detailed information on the topography of the area.
The projects of the Announcement of Opportunity for the Development of Digital Elevation Models and their use in Synthetic Aperture Radar applications use data and satellite products from the Argentine satellite constellation SAOCOM and other sources , to apply them in different problems, such as validation of digital elevation models, in hydrology, in agriculture and livestock; afforestation, geological risk, infrastructure, cartography, cadastre, glaciology, nivology and volcanology.