Closing schools during the initial lockdown was one of the toughest and most momentous restrictions for parents and students alike. Such a scenario should rightly be avoided as far as possible in the ongoing pandemic. OHB System AG and its medical technology partner HT Group want to make a contribution. With the help of know-how from space travel, the Bavarian company has developed a ventilation system that significantly reduces the spread of viruses in closed rooms.
The Upwind 900 is a vertical ventilation concept. A gentle, filtered air stream is brought into the room below and flows up to the ceiling, where the potentially aerosol-laden air is sucked out. The air is also forced upwards because it is heated by the body heat of the people in the room. The extracted air is then cleaned with the help of so-called HEPA filters – which are also used in aircraft – and fed back into the room.
In contrast to conventional ventilation systems and window ventilation, this prevents the stale and fresh air from mixing. This significantly reduces the spread of viruses or aerosols and reduces the risk of infection. In addition, there are practically no obstacles on the way from the field of vision to the ceiling, so that the air can flow unhindered.
The system is designed as an installation kit that can be installed cost-effectively and without major renovations in existing rooms. The device is attached to a wall, to the ceiling or to the opposite wall in order to bring in the conditioned air near the floor and to extract the stale air from the ceiling. In addition to schools, the system is suitable for all closed rooms such as restaurants, cinemas and waiting areas, some of which are particularly affected by the current restrictions. Beyond the corona pandemic and the flu season, the system is designed to additionally reduce pollen or fine dust pollution and allergens in the air.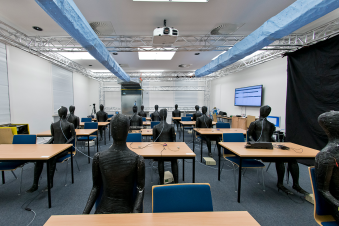 Space spill-over
OHB System AG developed the technology together with the HT Group, which specializes in the expansion of operating rooms, high-security laboratories and patient rooms. OHB contributed know-how from space research. Among other things, OHB is researching how satellite components can be protected from contamination by particles, chemical substances or microorganisms. The experiences from both companies were incorporated into the new ventilation concept.
A measurement campaign lasting several days at the Institute for Aerodynamics and Flow Technology at DLR has now shown that the system works and the risk of transmission is reduced. The experiments showed that a sort of air partition was created between the people in the room. With a demonstrator of the Upwind 900, further practical tests will soon be carried out in schools, a seminar room and a restaurant.