With an average temperature of 9.1 ° C against a long-term average of 6.7 ° C, November was very mild and also good for fifth place in the list of the mildest November months.
With a national average of 80 hours of sunshine against a long-term average of 115 hours, the month was very gloomy. For the first time this autumn, it cooled down at night to below freezing point, -0.7 ° C, on 17 October at KNMI station Twenthe. A few days later, 21 October, it became 21.3 ° C in Maastricht, the highest temperature this month.
The month started off in an unstable and mild manner under the influence of an extensive low-pressure area near Iceland. In the southeast it even came to a warm day (20 ° C or more) on 2 November. In Arcen, the highest temperature of the month was reached that day at 20.4 ° C. At 19.3 ° C, it was the mildest November day in De Bilt since the measurements started in 1901.
On November 4, we were faced with a calmer weather picture under the influence of a high-pressure area over Great Britain. On the east flank of this, less soft air was supplied with a northerly current. In the days that followed, the high gradually moved through our surroundings towards Eastern Europe and it remained mostly dry until the 11th. During the night it sometimes cooled down considerably and on 4, 5 and 6 November it froze locally in the east and southeast of the country. With a southward turning current it softened again from the 7th and on November 9th it became locally 18 ° C in the south. In the humid air it often became foggy at night.
Van 12 tot en met 18 november stond er in onze omgeving een krachtige (zuid)westelijke stroming waarin actieve storingen passeerden, met regelmatig neerslag, soms veel wind en temperaturen die ruim boven normaal lagen. Vanaf de 20e kwamen we in een minder warme luchtsoort terecht en in de dagen daarna stabiliseerde het weer geleidelijk aan de flank van een hogedrukgebied boven Centraal-Europa. Op 20 november kwam de maximumtemperatuur in De Bilt met 8,5 °C in De Bilt voor het eerst sinds 1 april niet meer boven de 10 graden, de langste reeks sinds het begin van de metingen. Op de 27e draaide de wind naar oost en koelde het verder af met middagtemperaturen rond 5 °C en minima rond of onder het vriespunt.
In de nacht van 30 november kwam het onder een heldere hemel en bij weinig wind in vrijwel het hele land tot lichte vorst, in het zuidoosten ook tot matige vorst. In Enschede werd met -6,7 °C de laagste temperatuur van de maand en tevens de herfst bereikt. De Bilt registreerde met een minimum van -4,2 °C de eerste en enige vorstdag van de maand en de herfst. Voor deze stations waren dit lagere waarden dan de laagste temperaturen van het vorige winterseizoen (2019-2020). Normaal telt november vijf vorstdagen.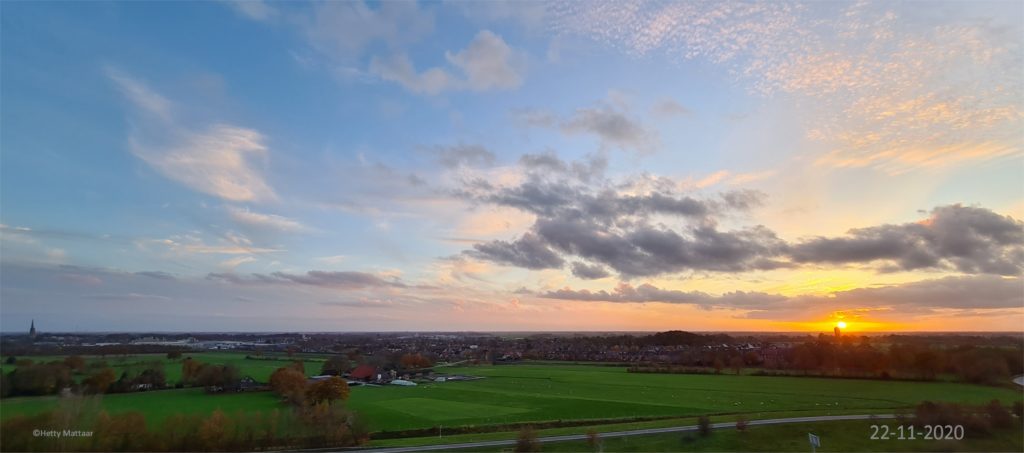 November was 31 mm on average across the country against the long-term average of 82 mm, a dry month. As in previous months, the lowest rainfall was in the southeast, with about 15 mm in the north of Limburg. Furthermore, the precipitation was fairly evenly distributed over the country with over 50 mm in the wettest places. De Bilt was the wettest KNMI automatic station with 50 mm against 80 mm normal, Maastricht was the driest station with 17 mm, normal is 65 mm. Most precipitation fell at the beginning of the month and around the middle of the month. On November 15 and 16, an active disturbance hit the land with a lot of wind and in much of the country 10-15 mm of rain fell. There were no long dry spells, although it remained dry for several days from 4 to 10 November in a large part of the country.
With an average of 97 hours of sunshine over the country against a long-term average of 63 hours, the month was very sunny. Especially from 3 to 8 November it was extremely sunny. From the 11th, although the clouds predominated, there were still some sunny days on 18, 23 and 25 November. It was particularly gloomy on 21 November and in the period from 26-28 November, with five gloomy (sunless) days in many places, including De Bilt, in De Bilt there are normally nine. It was the sunniest this month in the southeast of the country, with 118 hours of sunshine in Maastricht against 66 hours normal. It was the least sunny in De Bilt, with 82 hours of sunshine against a long-term average of 63 hours.