Forsway,a visionary team fostering an efficient, cost-effective approach to extending broadband services in regions with limited infrastructure or capacity has announced a new tech solution Forsway Xtend designed to provide cost effective, future-oriented satellite extension for operators and service providers that challenges the traditionally high cost of connecting hard-to-reach, underserved areas.
Xtend's combination of pioneering solutions and hardware unites satellite and network technologies to leverage the potential of today's abundant satellite capacity:
Extends satellite broadband to underserved markets with limited infrastructure;
Scalable solution boosts capacity and reach of terrestrial broadband networks; and
Cost-efficient, agile, and easy to deploy, enables satellite operators and service providers to monetize unused bandwidth.
Significantly boosts capacity
Forsway solution can boost downlink capacity in rural areas from < 1 Mbps to > 40 Mbps (using satellite when needed), using less than 20% satellite capacity compared to VSAT.
According to the company, traffic is run over low-cost, but low latency and low-capacity ADSL or mobile data networks bandwidth is exhausted, when satellite is activated, providing the downlink boost.
Positions operators & service providers for new segments
Forsway solution offers
Rapid roll-out of internet services with no additional infrastructure, plus minimal investments
Enables multiple business opportunities – With VNO support, operators can sell accounts & dedicated bandwidth as managed services
Reduces TCO – outperforms VSAT cost & QoE using terrestrial return channel & satellite forward link.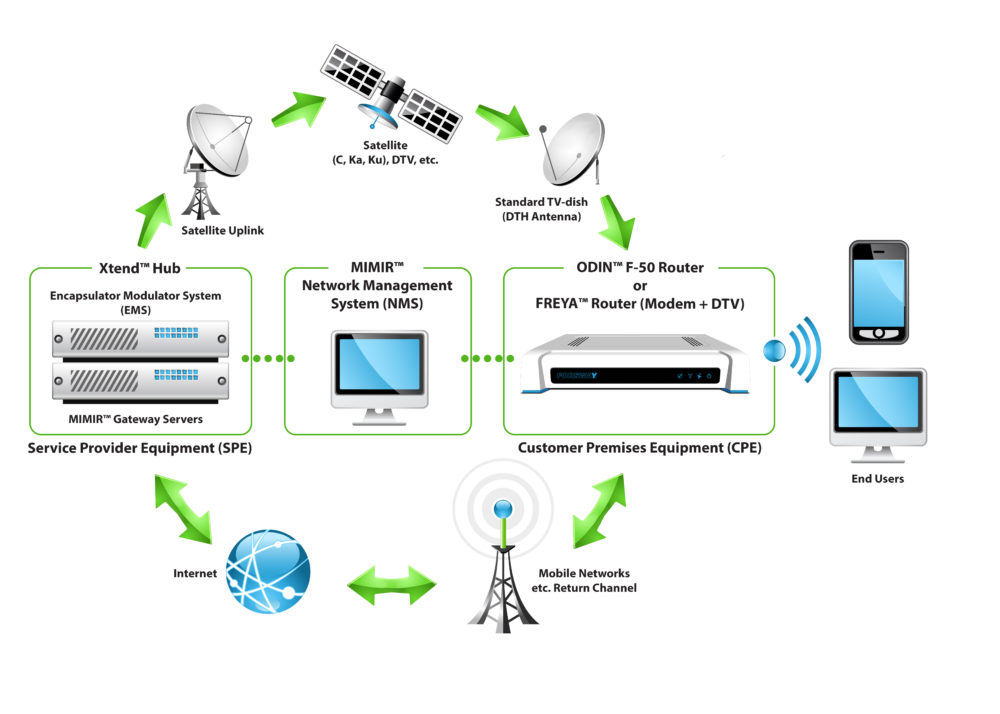 Forsway Xtend toolkit
The complete Forsway Xtend ecosystem includes everything a service provider needs to roll-out a complete hybrid internet over satellite service, comprising of the Forsway Hub, customer premises equipment and a bouquet of innovative, robust features and functionality.

Forsway Xtend Hub
The Forsway Xtend Hub is a hybrid satellite broadband extension connecting hard-to-reach regions. Forsway Xtend Hub (link to Hub page) is the most cost-effective satellite extension for terrestrial broadband networks. The Hub includes the Mimir Gateway, Saga EMS and NMS functionality.
Forsway Xtend customer premises equipment (CPE)
Odin F-50™ is a highly cost-effective, high performance satellite router for hybrid internet over satellite. Designed to operate with broadcasting satellites, Odin F-50™ is aimed at enabling connectivity for small communities, education and health information, libraries, and much more. Click for details
Or, choose the Freya™which is designed as the ultimate home interface to HD satellite TV that integrates broadband internet access via satellite. Freya enables home users to centralize their satellite services into one convenient device. 
Sample of features
Taps satellites operating in Ku, Ka or C band– offers for wide capacity
Ubiquitous coverage– satellites reach everywhere
High QoE– wide selection of return channels
Asymmetric Routing
On-demand satellite bonding: Accelerate average performing connections, e.g. mobile or ADSL, with satellite capacity, to increase peak downlink bandwidth
NMS monitoring
Billing and Provisioning Systems can be offered from Forsway's partners or be integrated with the service operator's existing systems
Modulates and encapsulates
Advanced IP over satellite optimization tools
Built-in Connection Logging – easy to comply with legal requirements
Prepared for Lawful Interception