Head of Safety Promotion at EASA discusses safety challenges for rotary wings and the key role Airbus has to play
Safety is a uniting force among all members of the helicopter industry. Here, John Franklin, Head of Safety Promotion at the European Union Aviation Safety Agency (EASA), discusses common challenges and achievements in the field of rotary wings, and the key role Airbus has to play.
What is the reputation of helicopter transportation from the general public regarding Safety?
From a statistical perspective, Europe averages one non-fatal helicopter accident per week with a rotorcraft and 1.3 fatal accidents per month, all manufacturers considered. The rate of accidents has been almost constant for the last 10 years. The EASA Rotorcraft Roadmap was developed specifically to tackle this safety challenge. Modern media means that high profile accidents are extremely visible in the media and this reinforces a negative view of helicopters by some people.
While every accident is one too many, it's important to remember that rotorcraft provide vital, life-saving services to our European and global society. When you consider the high risk situations that helicopter crews find themselves in every day while saving lives and supporting vital infrastructure, compared with other activities or modes of transport we can still be proud of our safety records.
What are the different roles of manufacturers, regulators and operators to improve aviation safety?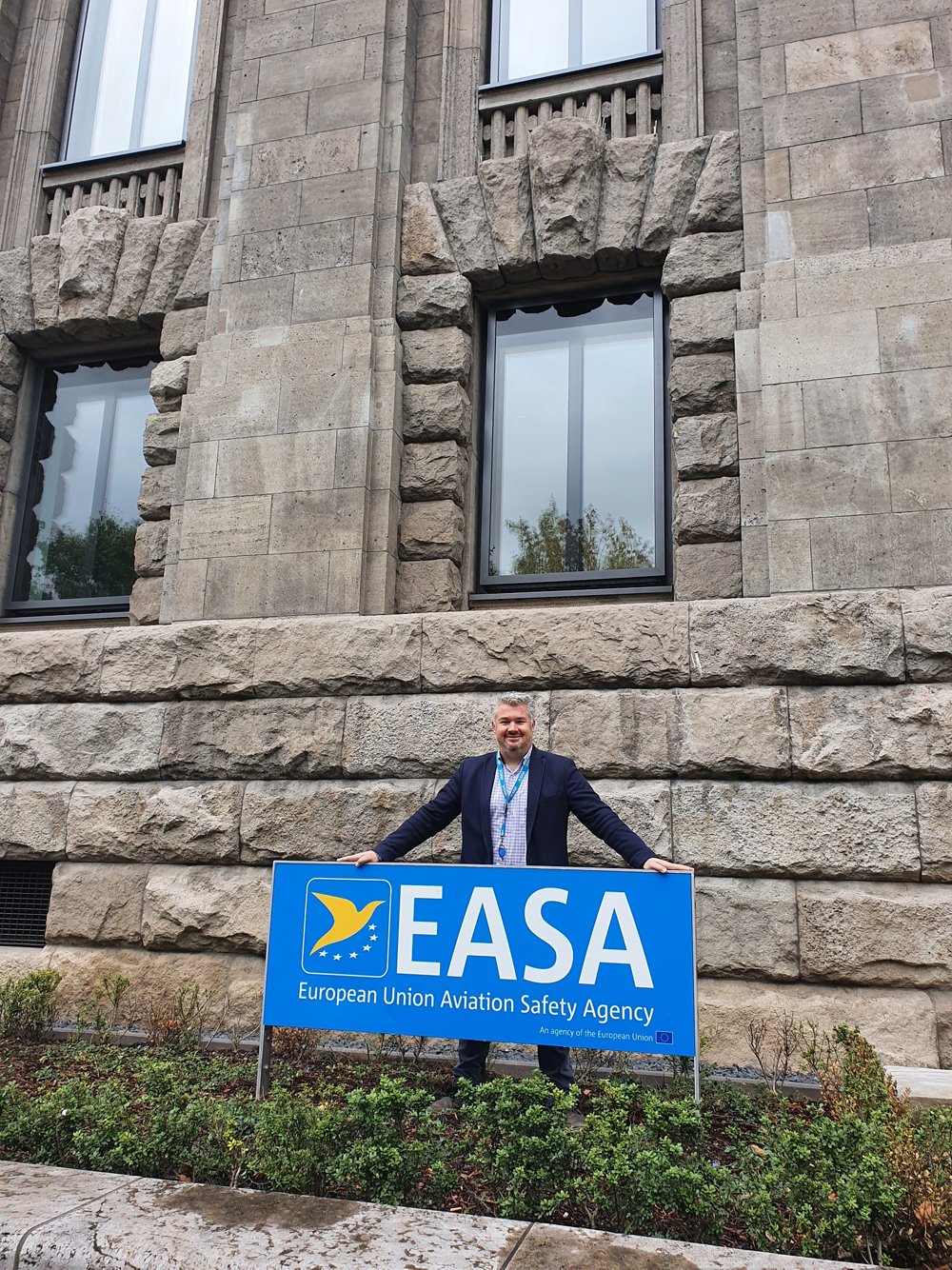 John Franklin, Head of Safety Promotion from EASA
Operators, Manufacturers and Regulators are part of the same system and contribute to making the operations safe. Through the EASA Rotorcraft Committee, stakeholders from the different areas of the industry work together and coordinate our efforts.
Manufacturers design and build aircraft in compliance with Certification Specifications, monitor in-service fleets through quality programs, provide operators support, contribute to innovation through research and development projects, analyse data and perform safety management at fleet level, perform safety promotion and reach out to their operators to help them operate safely and effectively.
Regulators define the regulatory framework to ensure safe operation and a level playing field. This includes the definition of Certifications Specifications, Operational rules, Maintenance, Air Traffic Management, Environment Protection standards and other types of rules. In addition, EASA performs standardisation and oversight functions, certifies aircraft systems and equipment, develops rules and regulations, gathers safety intelligence and implements Safety Risk Management, contributes to R&D, performs safety promotion activities and much more.
Operators are the final part of the picture and in addition to operating both safely and effectively, they have a part to play in implementing Safety Management principles at the local level to identify hazards and manage local risks to keep them acceptable. Some also perform maintenance work and deliver training.
There are other important actors in the system. These include maintenance organisations, Universities (Academia) and Training Organisations, ANSPs, ATC and FIS, EUROCONTROL, Research Institutes, Associations like EHA, HAI, HeliOffshore, FSF, RaeS, GASCo and safety partnerships like IHSF (formerly IHST) and ESPN-R (formerly EHEST) in Europe. All have complementary roles to play!
What are the main challenges to improve aviation safety in the helicopter industry?
First, it's perhaps useful to outline where the information comes from to identify these challenges and how we use that information to identify and act on the strategic safety challenges. Every year EASA publishes the Annual Safety Review (ASR) which provides an overview of the accident statistics from the previous 10 years. The European Safety Risk Management (SRM) process involves a collaborative approach with the helicopter industry to assess accidents and other safety occurrences reported by operators to help determine both the main safety challenges and also the most appropriate mitigations. The involvement of industry in this work is vital and the process relies on the occurrence reports that operators submit to help identify the causes and mitigations at a strategic level.
The analysis shows that in terms of accident prevention, the main focus is on reducing the following accident types: Aircraft upset / loss of control, terrain collisions, airborne collisions, and obstacle collisions in flight.
To help counter these safety challenges the EASA Rotorcraft Roadmap focuses on six safety pillars that will help us work together across the industry to improve safety. The first pillar is "Design and maintenance": to help reduce the likelihood of critical technical failures leading to accidents. The next one is "Training and operations": to help tackle the operational side of accidents. Given that a number of accidents occur during flight training, we are working to increase the use of simulators that can enable pilots to perform critical emergency manoeuvres in a safe environment. There are also pillars on "Safety Management" to help us manage our risks in a more coordinated manner and this links also to another pillar titled "Be more integrated and efficient". Finally, there are two closely linked pillars to help us harness the power of technology to improve safety: these cover "Research and innovation" and "Encourage and facilitate new technologies."
Which have been the main achievements in this field in the recent years?
There have been many improvements that are worth mentioning and Airbus is one of our key safety partners in this activity. In particular there have been some fantastic achievements in design and maintenance, training (classroom, in-flight and simulator training), operations and safety management. As a manufacturer, Airbus has a key role to play in bringing new technologies with safety benefits into operational use and there are many different enhancements that have helped to improve safety. On the safety management front, the "Before your flight" app from Airbus has been a vital step forward in helping operators to identify and manage risks prior to take off.
The level of industry collaboration in the helicopter industry is another key achievement. Airbus Helicopters has been vital in helping EASA to bring together industry stakeholders at global and European levels to discuss our priorities and to develop practical solutions. We are very grateful for the active role that Gilles Bruniaux, Matthias Klein and their teams play in our different activities such as the Rotorcraft Committee and the European Safety Promotion Network – Rotorcraft, which is co-chaired by Bernd Osswald. Airbus Helicopters has also been instrumental in working with EASA and other manufacturers to organise worldwide safety seminars and workshops that have greatly benefited the whole industry.
As a manufacturer, Airbus has a key role to play in bringing new technologies with safety benefits into operational use and there are many different enhancements that have helped to improve safety.
Which kind of helicopter accidents are easier to prevent?
There is a saying that there are no new accidents, just new people waiting to have the same accidents all over again. While this is not strictly true of course, our safety analysis highlights some common themes in the various accident scenarios that are perhaps easier to prevent than others.
When it comes to weather events, it is often difficult to say no to a flight despite challenging conditions that may reduce the safety margins. Use the Airbus "Before your flight" app to help identify when the situation might require you to take the hard decision to stay on the ground. Airbus' Bruce Webb has done some great videos on this subject. Good weather planning coupled with effective decision making is very important.
For loss of control, as mentioned earlier, we see a number of accidents in training that could have been prevented through more widespread use of simulators for certain emergency manoeuvres in particular. This subject will feature in an EASA Safety Promotion campaign later in the year – be sure to join the Together4Safety Rotorcraft Community website to stay in touch with this work and other developments. Manufacturers have helped a great deal already in encouraging more use of simulator training.
Potentially the biggest area where manufacturers can influence is with regard to technology advances. In fixed wing flying we have seen the number of CFIT accidents reduce to effectively zero thanks to the widespread use of GPWS. The more the helicopter community can benefit from this and other innovations the safer our operations will be.
How do you think the VTOL developments for UAM will change the approach to aviation safety for regulators?
The new generation of vertical take-off and landing (VTOL) aircraft with distributed electrical or hybrid propulsion systems opens up the prospect of a growing volume of Urban Air Mobility operations. The industry is working actively on the technical challenges and the regulators are developing new concepts to enable the safe operation of these new aircraft.
Not only the aircraft are different but also the business models and the way they will operate. Moreover the technologies involved will evolve quickly. So, the rules need to be written in a way that enable this evolution and support safe improvements.
One of the main elements is the high expectation for adequate safety for such aircraft so as to secure the confidence and trust of the general public. This confidence will help the industry to grow. EASA has already published the first building blocks of the future regulatory framework and is now working on developing the technical standards.