How has the average temperature in De Bilt changed since 1901? What is the current year / season expected to end up? And what are the scenarios for the future until 2100? The Climate Dashboard provides answers to these questions in an interactive graph.
The new KNMI Climate Dashboard  shows the average temperature in one overview, including the trend, the forecast and the various climate scenarios for the future. 
It becomes clear that the average annual and seasonal temperature (black line) varies every year: we see peaks and dips. But the trend (dark blue line) is going up. The annual temperature in De Bilt increased by more than 2 ° C between 1901 and 2020. In addition, we see that the 'normal' – the thirty-year average – (light blue horizontal lines) continues to rise over time: what we used to consider normal is now no longer.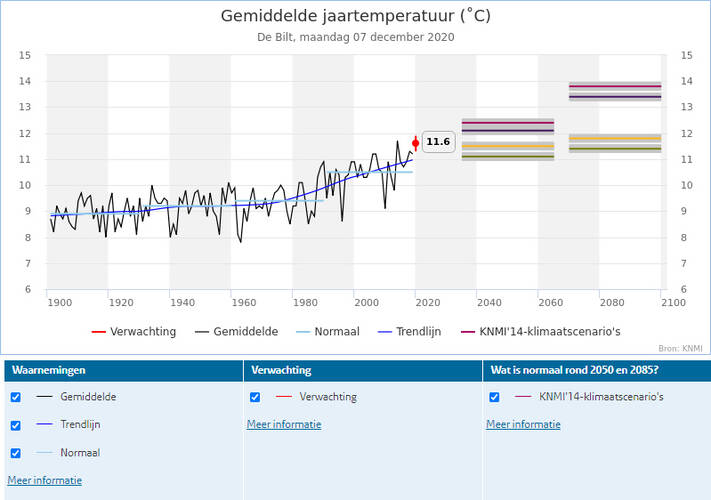 The Climate Dashboard consists of three parts:
Observations
The black line shows the average annual or seasonal temperature that we measured. The dark blue line is the trend in this average. The light blue line is the normal, also known as the long-term average for the periods 1901-1930; 1931-1960; 1961-1990. The new normals for the period 1991-2020 will be added in January 2021. It now contains an indication for the period 1991-2019.
Expectation
The red dot indicates an expectation for the average annual temperature or for the average temperature of the current season. At the start of the year / season, the expectation is still uncertain, because it is still largely based on the measurement data from previous years. The red stripe, with the dot in the middle, indicates the uncertainty. Expectations become less uncertain at the end of the year / season, because it becomes increasingly clear how the year / season will turn out compared to previous years.
What is normal around 2050 and 2085?
The colored horizontal lines indicate which average annual / seasonal temperature we must take into account in the future, according to the four KNMI'14 climate scenarios . The new normal, the 30-year average, will be between 11.1 and 12.4 ° C by 2050. And around 2085 between 11.4 and 13.8 ° C. The KNMI'14 scenarios will be replaced in 2023 by the new KNMI'23 climate scenarios.
First product from the Early Warning Center 
The climate is changing rapidly. This makes weather extremes more common. In order to respond to the changed weather and social demand, KNMI will monitor the atmosphere even better and warn earlier and more precisely. That is why KNMI is developing an Early Warning Center (EWC) , a so-called national warning advice system. The Climate Dashboard is the first monitoring product created as part of the EWC.
At the beginning of October , we launched our new climate page, which collects information about the climate of the Netherlands, including the Climate Dashboard. This dashboard will be expanded in 2021 with more climate variables such as precipitation.